In the ever-evolving landscape of technology, high-performance fans have emerged as essential components, playing a pivotal role in ensuring effective cooling solutions. These advanced fans excel in delivering enhanced airflow, high static pressure, and exceptional energy efficiency, catering to the escalating demands of modern devices. This article explores the evolution and diverse applications of high-performance fans, adapting to the rapidly changing technology landscape and extending their influence beyond traditional usages to make valuable contributions across various industries and applications.
1. The Evolution of High-Performance Fans
As information and communication technology (ICT) equipment and modern devices continue to evolve, high-performance fans have undergone significant transformations. Traditionally, their primary role was to address the heat generated by the increasing capacity and speed of ICT equipment, necessitating high airflow for effective cooling. However, the evolving technology landscape demanded a shift towards a balanced approach, incorporating both high airflow and high static pressure for efficient cooling. Manufacturers responded with comprehensive optimization of fan designs, focusing on aerodynamics, motor efficiency, and drive circuit performance. These advancements have yielded high-performance fans capable of meeting the dynamic demands of modern ICT and other technology applications.
2. Pioneering Breakthroughs: Enhancing Fan Performance
Fan performance is determined by three key factors:
The aerodynamic performance of the impeller and frame
Motor performance
Drive circuit performance
By carefully optimizing each component and striking a balance between them, we have achieved significant advancements in high-performance fans.
To achieve higher static pressure, a crucial element in modern ICT equipment cooling, we used a technique of shaping the frame spokes, which secure the motor to the frame, into blade-like structures (stator blades) located behind the impeller (rotor blades), we successfully enhanced static pressure capabilities.
This innovation has been exemplified in our 40 × 40 × 28 mm axial fans, such as the 9GV, 9GA, 9HV, and 9HVA types. Over the years, these fans have undergone progressive improvements to meet market demands (Figure 1).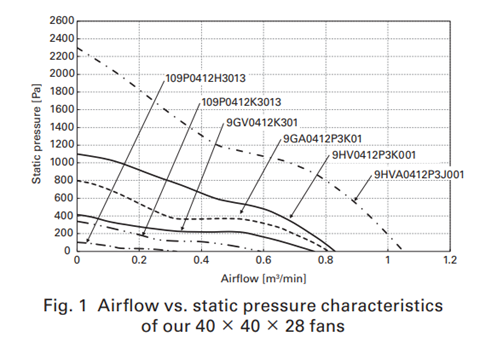 Our latest 9HVA type fan represents the pinnacle of this ongoing evolution. It delivers approximately 3.3 times higher maximum airflow (1.05 m3/min) and an impressive 22.4 times higher maximum static pressure (2300 Pa) compared to our first product for 1U servers (9P type: 109P0412H3013).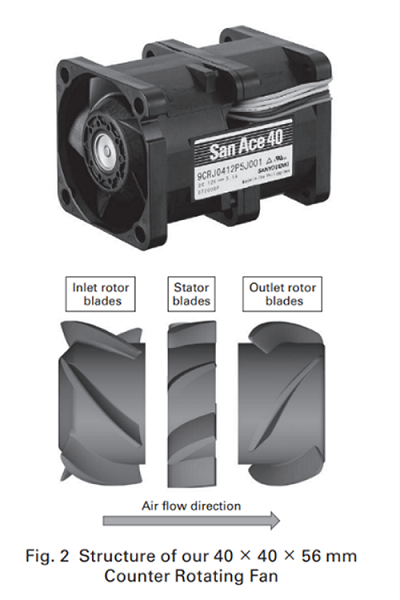 Additionally, the development of the Counter Rotating Fan has been another milestone. By incorporating two fans rotating in opposite directions and integrating them in series, we achieved a significant improvement in airflow characteristics (Figure 2). This innovative design allowed us to overcome the challenges posed by conventional methods of placing fans in series, leading to even higher performance
3. Expanding into Diverse Applications
As high-performance fan technology reached new heights, its applications expanded beyond the ICT realm. The energy sector, in particular, welcomed these powerful fans for a wide range of critical applications, including solar power generation systems, storage batteries, fuel cells, fast EV chargers, and lithium-ion battery charge/discharge test equipment. Their adaptability and effectiveness in diverse environments have positioned them as transformative tools, driving innovation across industries.
The journey of high-performance fans embodies engineering excellence and innovation. Their transformative impact extends beyond ICT to various sectors. As engineers, embracing these advancements enables a more efficient and sustainable future. Let high-performance fans drive us toward a cooler and greener world.
Read more technical achievements in our whitepaper here:
About SANYO DENKI
SANYO DENKI has been a trusted provider of cooling solutions for various industries, with fans being a crucial component in many advanced devices. Contact us for a quote, or to discuss your device's customization requirements.
Our experienced application engineers and field engineers will provide support on the customization or any other technical support for your equipment. Contact our representatives or distributors to start discussing your next project.
Contact Us