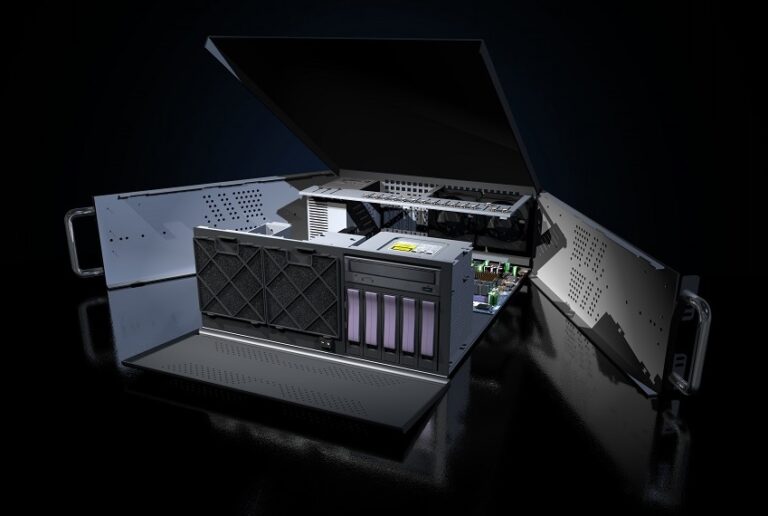 As 5G wireless technology delivers higher data speed and massive network capacity, as well as expanding cloud services, the processing speed and amount of data on the servers are increasing year by year. Along with this, the amount of heat generated by the data processing device is increasing. In addition, since the mounting density inside the device is increasing, a cooling fan with high air flow and high static pressure is required. In addition, reduction of power consumption is also emphasized for hitting sustainability target and reducing operational cost. 
At SANYO DENKI, we conducted optimization calculations using fluid simulation and prototype evaluation using a 3D printer in order to improve aerodynamic performance of the blade and frame shapes. Furthermore, high efficiency is achieved by using a three-phase motor and a high magnetic force magnet for the motor and drive circuit, achieving high air flow, high static pressure, and energy saving.
This is how High performance model "San Ace 60 9HVA type" was developed, for 60×38mm size mainly used in the 2U server. 
The new 9HVA type delivers unparalleled cooling performance with high air flow of maximum 84.3CFM and static pressure of maximum 8.0 inchesH2O at free air. This is the highest cooling performance for same sized models in the industry (as of December 2021).


PWM control function further enables control of fan speed depending on the situation and to reduce the power consumption and noise.
With the exceptional performance and energy saving, San Ace 9HVA Type 60x38mm DC Fan could be well suited for your equipment design. Contact Regional Sales Managers from Territory Map or Sales Representative in your area to discuss your next project.
Resources - 9HVA Type 60x38mm