Sanyo Denki over the years designed innovative high-performance fans for niche markets. The latest San Ace 40 9HVA type is designed with customer requirements in mind, shown in Figure 1. An example application is hot swappable fan in 1U server rack. Other terms commonly used to refer to hot swappable fans include customer-replaceable units (CRUs) and field-replaceable units (FRUs). There are severe design challenges for a cooling fan to move a large volume of air under back pressure. To achieve high static pressure performance, Sanyo Denki engineers prioritized on significant speed improvement and optimizing the shape of the frame and impeller.
Fan Design Considerations
Focusing on improvements in blade shape and number of blades in the fan is just not enough. Most importantly, high speed and efficient motor are also required to move air at turbulent speeds. The challenge is exacerbated when fan sizes are small such as the 40mm x 28mm 9HVA type. Simply put, there is not enough volume to fit in a large size motor and circuitry to drive a DC cooling fan and make it perform higher. In recent years, Sanyo Denki has made significant development in motor technology targeted for a mass production scale to benefit worldwide customers.
The improved electrical design aspects of the newer Sanyo Denki 9HVA type need to be highlighted because this is important for customers and system designers when sizing up power supplies to essentially power multiple high-performance fans in high density computer systems or even in battery operated air purification devices. With the help of newly designed 3-phase drive motors and advanced control and circuit design, higher fan speed can be achieved from high-frequency switching. Sanyo Denki's circuit design incorporates careful selection and evaluation of top of the line electronic components. The advanced circuit design suppresses peak current at high switching speeds and 3-phase motor provides low cogging torque and vibration. Refer to the PQ performance comparison chart below in Figure 2 to see the performance difference between the newer 9HVA model and the predecessor 9HV model.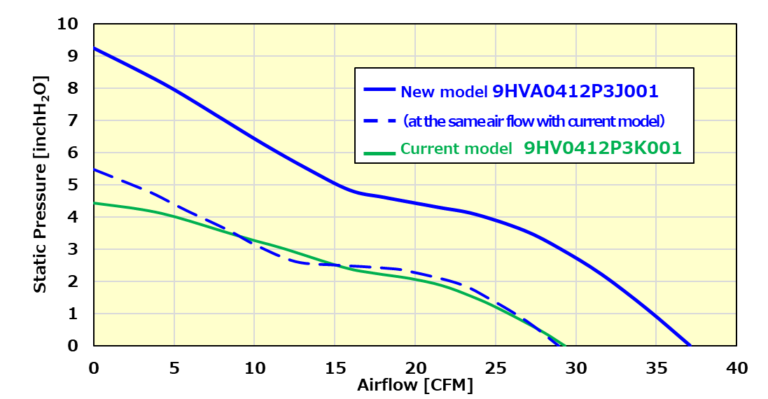 Advantage of soft-start effect
In addition to the ultra-high-performance feature of the newer 9HVA type model, it also offers a key advantage over predecessor models such as slow start-up (aka soft-start) during power ON. This is especially beneficial for 1U high density servers in a hot swappable fan application and can keep stress off hot-swap field-effect transistors (FETs) during power ON since the start-up current of the new 9HVA fan ramps up slowly.  A typical use case is 5 to 7 fans in a parallel configuration (front to back airflow) in a 1U server rack and the soft-start feature ensures the power supply doesn't experience a sudden surge when the fan is replaced. Refer to Figures 3 and 4 for an oscilloscope screenshot of the 9HVA start-up current in comparison to its predecessor 9HV.
The current model, 9HV0412P3K001, has a start-up current profile that indicates it will reach its full operating speed in about one second once powered on; whereas the new model, 9HVA0412P3J001, takes 10 seconds to reach the same state. 9HVA0412P3J001 having this soft-start will ensure the power supply and surrounding electrical components, such as an overcurrent fuse, is not stressed and helps safeguard the electronic.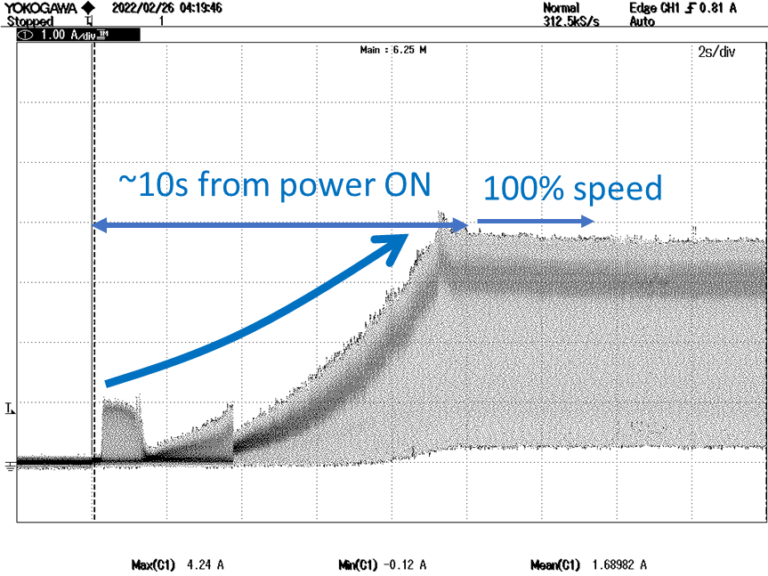 Sanyo Denki's continued fan design pushes the boundaries of the small form-factor, high performance fan capabilities while balancing the need to maintain electrical safety of the system.
Written by Vik Khanikar, Jerry Wu
Customization and Technical Support
Our experienced application engineers and field engineers will provide support on customization or any other technical support for your equipment.