Sanyo Shokai Special Electric Works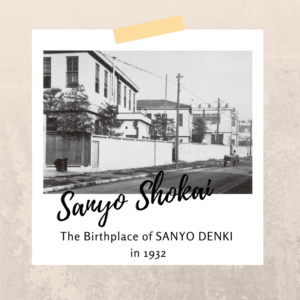 The birthplace of Sanyo Denki is in the eastern Ikebukuro area of Tokyo.  Hideo Yamamoto founded Sanyo Shokai in August 1927. In June 1932 during the recession of the Showa Financial Crisis, he established "Sanyo Shokai Special Electric Works" (山洋商会特殊電機製作所) to manufacture electronics.  The original intention was to develop power supplies for telecommunication equipment which had been growing rapidly in Japan.  
At that time, power supplies for telecom equipment were typically high-frequency alternating current (AC) generators since direct current (DC) models were not yet readily available. Since the performance of domestic products were far inferior to that of overseas products, we pushed towards improving our technical ability and challenged ourselves to develop a high-frequency DC generators.  These efforts resulted in becoming the top Japanese manufacturer of small AC/DC generators, telecom power supplies, auxiliary equipment, and power distribution boards.
Sanyo Shokai Special Electric Works' products were quickly recognized in industry as having no equal.  Their technology and customer applications were beyond their rivals ability to keep up.  The company's engineering capabilities became known far and wide.  In 1936, Sanyo Shokai was reorganized into a joint stock company (Sanyo Shokai Co., Ltd.) and was renamed SANYO DENKI CO., LTD (山洋電気株式会社) in 1942.
Key Technology and Cultural Events in 1932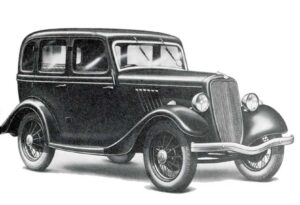 Ford's V-8 was released.

Zero-length springs are invented, revolutionizing seismometers and gravimeters.
Amelia Earhart becomes the first woman to fly solo across the Atlantic.
Kusuo Kitamura becomes the all-time youngest male swimmer to win gold in the 10th Olympics.
Yankee's sweep the Cubs with Babe Ruth making his famous "Called Shot"
Aldus Huxley's "Brave New World" was published.