Highest Performance Fan with IP68 in Compact Sizes
SANYO DENKI's extensive lineup of IP-rated fan series now comes in a compact yet powerful 9WPA-Type with 40mm frame sizes; 40x20mm and 40x28mm. These fans currently provide the strongest cooling performance in the industry. The 40 x 20mm model delivers a maximum static pressure of 0.84 inches H2O and a maximum airflow of 13.4 CFM, while the 40 x 28mm model delivers a maximum static pressure of 2.22 inches H2O and a maximum airflow of 22.2 CFM.
Below is the comparison graph with the current model, the 9WP-Type. Both the airflow and static pressure have significantly improved to target the cooling of high-density devices.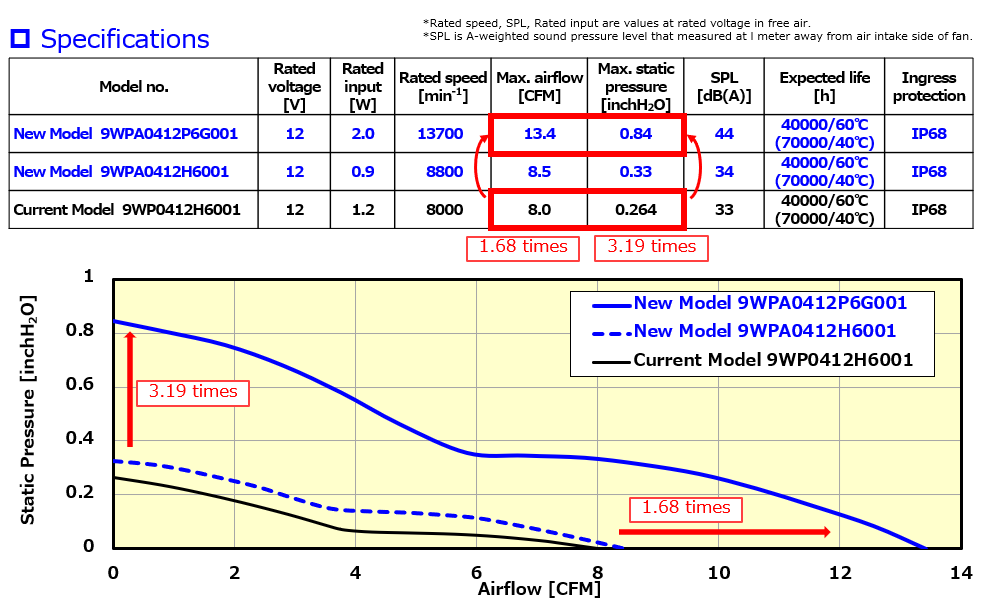 High Versatility for Outdoor Equipment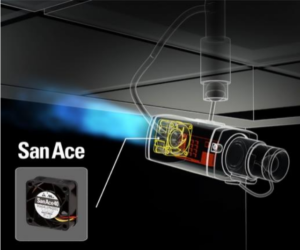 Electronic devices used outdoors require protection from water and dust ingress to prevent internal damage. The 9WPA-Type fan achieves excellent IP68 water and dust protection, maintaining stable operation in harsh environments. With its compact size of 40mm frame size, it is suitable for various applications such as base stations, quick EV charging stations, and surveillance cameras. Both sizes offer models with PWM speed control, to enable energy efficiency.
Resources - 9WPA-Type DC Fan
Our experienced application engineers and field engineers will provide support on cable customization or any other technical support for your equipment. Consult your local SANYO DENKI field sales representatives and distributors to discuss your next project.