What is Rice Cold Storage?
Rice, or grain cold storage is the industrial equipment to store grain with temperature control. Lowering the temperature and humidity protects the harvest even without chemical treatment. In a high external temperature, as well as a warm temperature inside of the grain bulk, the controlled storage temperature minimizes insect activity and mold growth in the stored grain. 
How SANYO DENKI Fans Are Used
Cooling fans are used for the heat dissipation of the condenser that maintains storage internal temperature at a constant. 
The challenge is that grain cold storage typically runs on a 24/7/365 basis and is in the need of saving the storage consumption. Its continuous usage also requires less frequency of fan replacement because scheduled maintenance time is minimized. 
The New 9AD Type ACDC Fan for the application
The new San Ace 172 9AD type ø172 x 150 x 51mm ACDC cooling fan could be suitable for any industrial equipment that traditionally uses an AC fan, but its features could provide solutions to this application.
9AD type ACDC fan not only operates with AC power but features DC fan-level motor efficiency despite its wide AC input voltage range (100~240V). Therefore, this ACDC model offers low energy consumption with an extended life of 40,000 hours at 60°C, reducing maintenance work hours and running power costs. Also, the PWM control function enables the control of fan speed, contributing to lowering noise and further improving the energy efficiency of the equipment.
Low Power Consumption - 9AD ACDC Fan Compared to Conventional AC Fan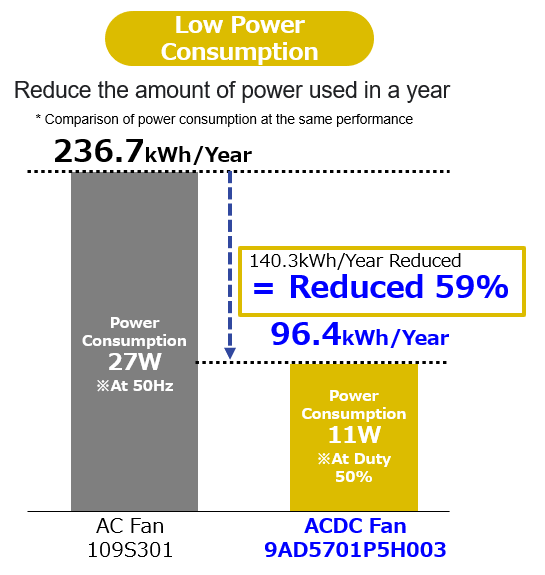 Low power consumption also contributes to reduction of CO2 emissions.
Long Life - 9AD ACDC Fan Compared to Conventional AC Fan
Fan replacement cost and man-hours can be reduced.
The Highest Performance ACDC Fan
The 9AD type ACDC fan delivers a maximum airflow of 236 CFM and a maximum static pressure of 0.78 InchesH2O, both of which are leading in the industry. The high-performance capability, along with PWM speed control, optimize and contribute to improving the device's performance and quality. 
IP56 Water proof Option - 9ADW Type
In addition, the Splash proof version 9ADW type provides IP56 level of dust and water protection. The IP56 option would protect the condenser cooling unit from exposure to rain, or from harvest debris.
Learn more about IP (Ingress Protection) rating here 
The energy-efficient, new high-performance ACDC series with 40,000 hours of L10 Life could be most suitable for industrial equipment such as air conditioners, inverters, control panels, and other equipment that requires high cooling performance and low power consumption.
Consult your local SANYO DENKI field sales representatives and distributors to discuss your next project.
Customization and Technical Support
Our experienced application engineers and field engineers will provide support on cable customization or any other technical support for your equipment.