Quietness and High Reliability Are Required for Fans Used in Medical Devices
"Medical devices are required to be highly reliable because they are related to people's health and safety. In addition, since they are often used in close proximity to people, quietness is required."
A Case Study – The medical device manufacturer was in the development of medical refrigerators for transporting and storing vaccines in response to the spread of the new coronavirus.
The chief design engineer, who was in charge of developing a new medical refrigerator, explains:
"The refrigerator installed in public health centers and hospitals are used near people, so it is necessary to reduce noise as much as possible.
In addition, since pharmaceuticals such as vaccines require strict temperature control,  it is necessary to prevent the stored pharmaceuticals from becoming unusable due to equipment failure.  I decided to reconsider the power supply and fan to cool the board."
Significantly Reduced Noise While Maintaining Cooling Performance
The chief design engineer started to search for a reliable, low-noise fan and took notice that SANYO DENKI has a track record of being used in many devices that require reliability and quietness, such as medical equipment.
SANYO DENKI proposed the DC fan "San Ace" 9RA type (92 x 25mm size) for this application. "When we compared the catalog specification with the fan from other manufacturer used in our previous model, we found that the air volume and static pressure were the same or higher, but the noise level was reduced." He also took notice of our efforts to ensure high quality and reliability, such as our inspection system.
① Highly Reliable and High-Performance Design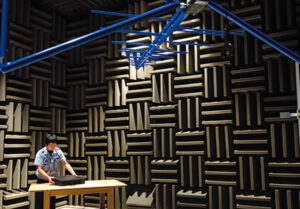 Since San Ace first appeared as a first domestically produced cooling fan in 1965, it is our mission to design and develop highly reliable and high-performance fans. It is based in two technology centers, one in Ueda City, Nagano Prefecture in Japan, and the other in the Subic Special Economic Zone in the Philippines. All models of DC fans use ball bearings that stabilize the load during rotation and rotor covers that secure the magnets and blades to achieve high reliability and long life.
② High-Quality Production and Manufacturing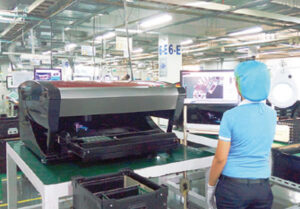 In terms of production technology, we have accumulated technology to provide high-quality products. For example, we manufacture our own precise original hard-tooling to achieve manufacturing in a short period of time. In addition, in the production process, we are working on production with uncompromising technology, such as performing balance corrections and inspections on all fans, which contributes greatly to our products' significantly low return rates.
Reduction of Noise and Power Consumption during Device Implementation Was the Decisive Factor For Design Win
After evaluating samples, the customer confirmed that the noise can be reduced while satisfying the cooling performance even when the device is mounted. It was also confirmed that power consumption could also be reduced, and the decision was made to design in SANYO DENKI fan soon after.
"We were able to clear the problem of noise by introducing a low-noise fan. SANYO DENKI's fans also have an extensive track record of being used in equipment where reliability is important, such as medical equipment and data centers. I was convinced of the high level of reliability when I learned that they are conducting rigorous in-house evaluation tests and 100% inspections. They also flexibly responded to requests for customization such as attachment of connectors, etc. As a result, we were able to greatly reduce the number of assembly man-hours in our company, and established a system for the speedy manufacture and sale of medical refrigerators. SANYO DENKI's cooling fan has a wide lineup other than the size and voltage specifications that we have adopted this time, so we would like to actively consider designing in more in future product development." 
Our experienced application engineers and field engineers will provide support on cable customization or any other technical support for your equipment. Consult your local SANYO DENKI field sales representatives and distributors to discuss your next project.